Fiber Optic customised  made cable assembly
From January 2020, AIXONTEC GmbH is offering beside the existing copper patch cable production a new professional fiber optic assembly under clean room conditions.
All common fiber optic connector types can be used by us with the latest machines and in compliance with the highest level of quality and performance.
We develop and manufacture fiber optic patch cables and pigtails customized to your requirements. Every patch cable is measured for transmission loss, return loss and backscatter loss in different wavelengths.
Our fiber optic assemblies can be used for office, data center, telecommunications, home and industrial applications.
Thanks to our European cable assembly line, we are able to respond to specific customer requests in a very short time, to manufacture prototypes and to start production after approval by our customers.
Our advantages for our customers as below: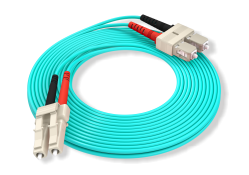 • Fast delivery
• European assembly
• Highest quality with documentation
• Fiber optic patch cables in customised lengths
• Highest quality control under clean room conditions
• Tailor made fiber optic cable assemblies
• OEM cable assemblies according to customer requirements
Our offer is aimed at commercial end customers who want special solutions, as well as manufacturers and distributors with their own brands.
For private endusers , our shop offers a range of standard fiber optic patch cables and assemblies that normally cover the installation requirements for small quantities.
We look forward to receiving your inquiries for cable assemblies for fiber optic and copper cables and ensure to answer your inquiries quickly.
Your AIXONTEC team