DIN Rails
We have expanded our product range with high quality DIN rails from Phoenix Contact. A DIN rail is a standardized profile rail made of galvanized steel. A DIN rail is used as a carrier for connection modules in the field of electrical installation and telecommunications.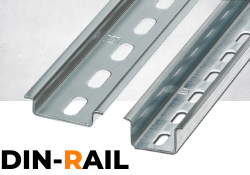 DIN rails are usually offered in 35 mm width and in 15 mm or 7.5 mm depth. The higher depth of the DIN rail, is mostly used for higher load capacity for modules or for longer profile lengths and offer a higher mechanical protection.
On the quality of a DIN rail should be paid attention, because they are mostly used at important distribution points for power or signal, or data transmission and a failure could cause an enormous damage. Therefore, we offer only high quality DIN rails from Germany and can benefit together with our customer from a long production experience as well as proper quality management of Phoenix Contact.
Currently we offer both perforated and unperforated DIN rails from our stock for you and can cut them to fit exactly to your need.
Unperforated top hat rail 35X7,5mm : DIN rail top hat rail NS 35/ 7,5 1206434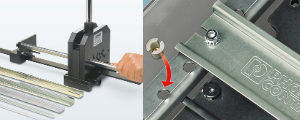 Perforated top hat rail 35X7,5mm : DIN rail top hat rail perforated NS 35/ 7,5 ZN 1206421
Perforated DIN rail 35X15mm : DIN rail perforated NS 35/15 ZN 1206599
For further questions or custom cuttings of DIN rails, we are looking forward to your contact.