Individual solutions
Individual and customized solutions for your IT network infrastructure.
As diverse as our world is, so are the customer requests for an individual solution for their network cabling.
We sre specialized in development and production of customized solutions for signal and data transmission. We can provide you with a customized solution to suit your environment and needs. Industrial automation is mving faster and faster forward and with it the demands for our IT network as well. A solid and well thought-out selection of the right components for your structured cabling is fundamental for your IT network infrastructure and contributes significantly to your success. Whether it's your home, office or industrial cabling, you shouldn't disregard the infrastructure for your digital highway and plan thoughtfully from the start. The fastest active device, such as a switch, can never reach its full potential without strong backbone cabling, and retrofitting is cumbersome and, most importantly, expensive too. To enjoy high data transfer rates, you should build your LAN cabling on a solid foundation. We can help you make the right decisions for your project, benefit from the experience of other customers and avoid mistakes. With our wide range of products and services, we can work together to plan and implement the right solution for your network cabling from the beginning.  
Individual cable assembly
Whether it is a matter of individual pin assignment, color or lengths of data cables or special and colored overmoldings of RJ45molding color, we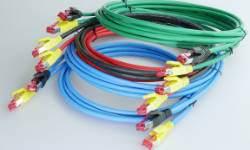 can fulfill your wishes in a tailor-made way with our versatile and flexible possibilities. Like many of our customers, you can benefit from our long experience in development and production of network components.
All our PRO patch cords are manufactured in Germany and overmolded in our factory in Aachen. The choice ofRJ45 plugs, cable type and color of the bend protection sleeves are therefore individually configurable. Each patch cord is 100% electrically tested and monitored by our strict quality control. AIXONTEC GmbH is ISO 9001:2015 certified, quality is our strength and your benefit.
Flexible solutions
Not everything is round and square and in most cases, there is a lack of space in the housing for LAN cabling. In such cases, our highly flexible cables and slim plug RJ45 connectors will help you. Whether you are looking for a thin LAN cable for home and office cabling or a highly flexible solid industrial cable, we can fulfill almost every wish with our special data cables.
Individual housings and system solutions for your multimedia applications
With our MMP Solutions we can offer every customer for home, office and industrial cabling an individual solution and unique system solution for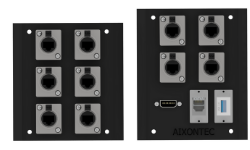 network cabling. Thanks to our module panels for DIN rail (MMP-D), as well as our (MMP-S) and (MMP-F) for surface installation, we can realize almost any LAN connection (copper & fiber optic) for you. We can respond to your individual needs and adapt the shape, size and color very flexibly to your requirements. Our MMP-M Solutions as a multimedia module panel will be individually adaptable to your housing and can be equipped with almost any module according to your requirements. Our cabling solutions are designed, produced, tested and shipped in-house. From an E-2000 fiber optic module to an M12 connector, we can nearly offer you for any connector a suitable panel holder.          
Trunk cables for professional LAN cabling
Trunk cables are bundled fiber optic or copper cables that are delivered pre-terminated and tested with customized selection of components in desired length. Trunk cables play a very important role in backbone cabling in a data center and are used by professionals for solid system
solutions. No one can afford disorderly cables in a data center or in professional network cabling for industrial automation.
The cable bundles are bound using a special braided sleeving and thermally sealed with heat shrink tubing at the cable end. In most cases, a whip length of approx. 50-60 cm is desired in order to clearly install the cable connections with strain relief, mechanical protection as well as labeling.
Trunk bundle cables can be individually assigned according to customer requirements and pre-assembled with plugs or sockets depending on the requirements. In most cases, a trunk cable is used to deploy several cables pre-assembled in a bundle as a plug&play solution, well and clearly arranged and easily accessible for maintenance and replacement work.
From development to production, we can manufacture customized trunk cables for you. The right choice of components as well as the design, production, testing, labeling, documentation and delivery all take place from one source. Benefit from our experience and variety of high quality components, which we usually have in stock.